...about a week, actually. I did consider the Eric B & Rakim route in completing that title, but ultimately decided against. Wisely, in my opinion. I just don't think I have what it takes to pull that off, if I'm honest.
Anyhoo (as only really irritating people say), I'm back. And not only that, I'm back in the garage - the Medway one at that.
The Kravin' "A"'s - Krave On! (Hangman; 1991)
A1: Pay Day
A2: Tripwire
A3: Girlse Like That
A4: High Time
A5: I'm Gonna Leave (Scream & Shout)
A6: You Know It Is
A7: Sometimes
B1: Baby What's Your Game
B2: Look Back and Laugh
B3: Free Girl
B4: Beatnik Girl
B5: Bad Time
B6:Lyin' Lyin' Lyin'
B7: Take My Hand
I thought about a picture of the cover (the Beatles mock-up sets a tone that shall be taken up further later on), but then I decided against it. Why? Well, you can see that anywhere, and I thought the space would be better used with this picture of big bad Bruce Brand: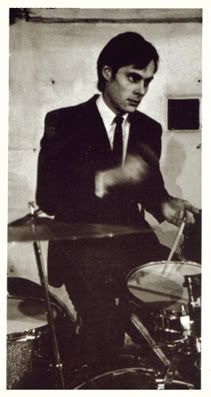 Never has trap rattling looked so mightily fucking cool. Well, apart from when Nick Knox did it. Anyway, the Kravin' "A"'s. Bruce has drummed the good drum for many a great outfit (too many to list in their entirety, so I'll just pick The Len Bright Combo to mention here, because they were bloody marvelous too), but not the Kravin' "A"'s. Oh no. Here Bruce stepped off the drumstool and into the guitaring limelight. I mentioned the Beatlescopycover, and this is a theme continued in good ol' Hasty Bananas' sleevenotes. This, however, is where the Beatles nonsense stops, really. A key difference is that the "A"'s (as nobody calls them) are good. Plus, this miniature classic of an album takes a chock-full grab-bag of early sixties-esque beatpop-type influences, fuses them with their contemporaries and previous experiences and predilections and makes something that sounds like nothing but The Kravin' "A"'s. More fun than you can shake a stick at (if shaking a stick at fun is your idea of a good time), more tunes than anyone has a right to shake a stick at, and not a duff song to be found. I'd pick out a favourite or two but, well, I've already done the tracklisting. I quite simply adore this album, and so should you.
Kravin' "A"'s - Pushin' and Shovin' (Screaming Apple; 1993)
A1: Born Yesterday
A2: You're Lookin' Fine
B1: Right Now
B2: (Don't Gimme) No Lip
The only other Kravin' "A"'s release, a quality little EP that squeaked into existence a couple of years after the album finally got a release (it had been recorded a good two or three years previously as I recall). As worthwhile an experience as the album, although the Beatlesyness floats dangerously near the surface at times (that time being most of the time during the verses of the first song). Thankfully, it would take more than that to dent as splendid a collection of songs as this, so try not to worry too much. Just click, wait a bit, listen, and then frug yourself senseless. Here's Bruce with very little hair. He's still cool though, he couldn't be anything other if he tried.