Last one for today (I reckon I've covered a week of catching up, there) - tomorrow will be back to the billy with some Happy Drivers and possibly Rattlers, as requested.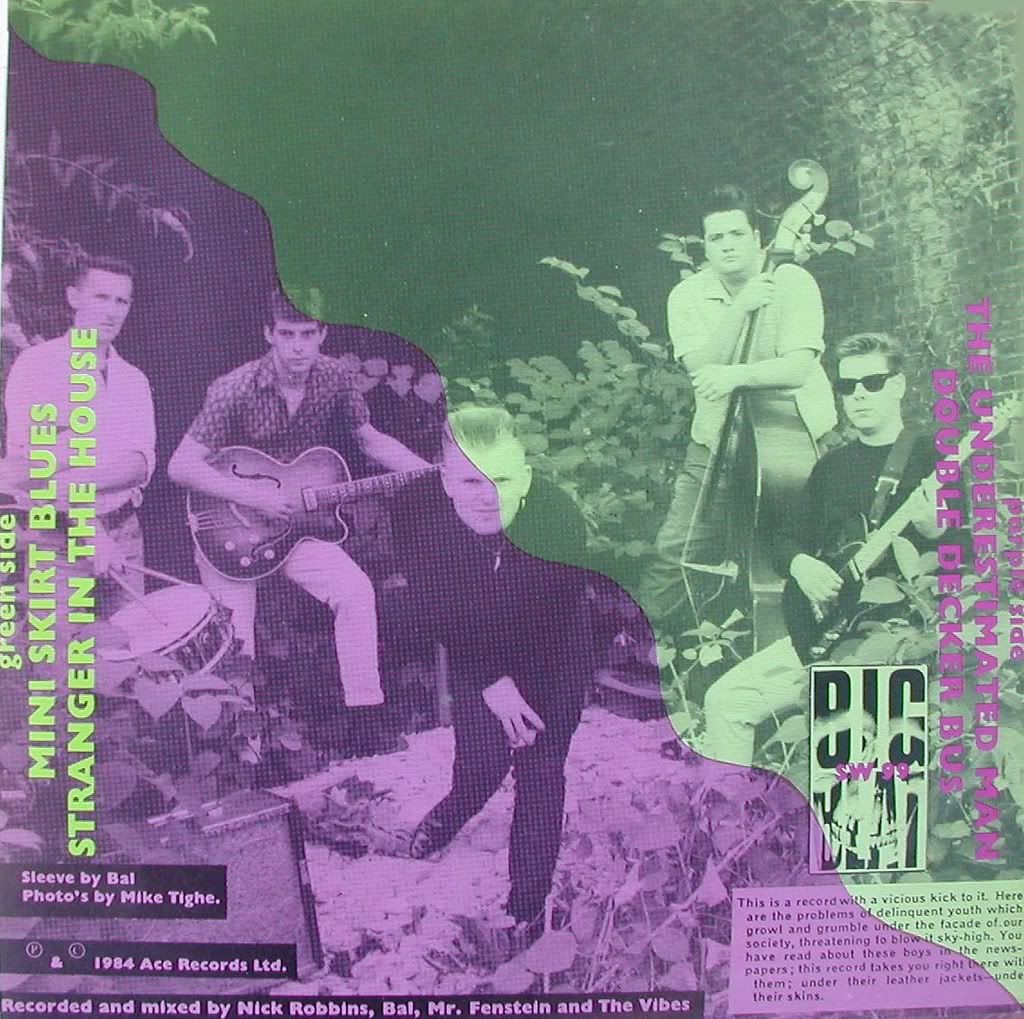 The Vibes - Can You Feel (Big Beat; 1984)
Purple Side
A1: The Underestimated Man
A2: Double Decker Bus
Green Side
B1: Mini Skirt Blues
B2: Stranger in the House
All four tracks on here are worthy of your attention, but it was Mini Skirt Blues that caught the Cramps attention - listening to them and Iggy having a time of it on
Look Mom, No Head!
and it's patently obvious which version they're covering, and it isn't The Flower Children's original. Slight irony I suppose, given the depth of Crampular influence to be heard right from the off with "The Underestimated Man", but also quite the compliment too. Give your ears a compliment, and give this swagger, stomp'n'roll classic a good and thorough listening to.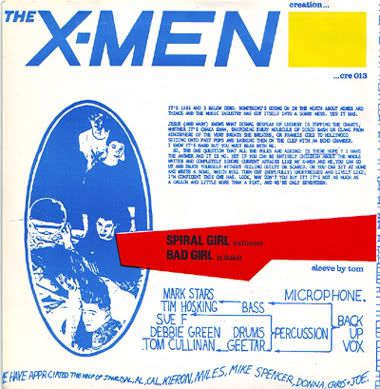 The X-Men - Spiral Girl (Creation; 1985)
A1: Spiral Girl
B1: Bad Girl
So it's on Creation. And one way of looking at when it was released is to say that it was circa '86. That doesn't, however, warrant it being shoved in the miscellaneous indie bin at Vinyl Exchange and labelled as "rare early Creation, c86 indie pop". However, this is where I found it when I picked it up (for the second time. Who knows, it may even have been my original copy. It was them I sold it to a few years ago after all, and with shit labelling like that, it wouldn't be a great wonder if they hadn't manage to shift it). Clearly, the chap in charge of labelling that day didn't bother looking much beyond the label. They certainly didn't listen to it. An a-side that is a quality little slice of garage punkpoppiness that wouldn't have sounded wildly out of place if snuck onto a pebbles or a nuggets, and a b-side that is a cover of one that was on one of those (it's the Zakary Thaks "Bad Girl"). Particularly ear-friendly are the drums, which is no surprise given that they're from "Bongo" Debbie Green, latterly of The Headcoatees, Would be Goods, Ug & the Cavemen et al. I'm reasonably sure that one or two of the other members were in (or went on to be in) another garage band of note, but I'm stuffed if I can remember who. My brain is prompting me that there is a connection, but there it gives up and shrugs at me. They went on to release an album on that den of garage iniquity Media Burn, but more on that another time perhaps. They also have the odd song on compilations, one of which has already featured on here, and one on another that might just yet. Regardless, enjoy. It's short, spiky and to the point.