An entire fortnight. I know, I know - it's not good enough. To be fair, there's been a lot of stuff going on, but hey - you haven't come to a blog like this to hear me witter and moan. I'll try not to leave it so long in future, I promise.
Anyway, to help ease the undoubted pain of two weeks without the trash, here's the rest of the Prisoners stuff for you to feast your ears on and then track down and buy from whichever grubby corner of the earth you can find it in (naturally I've left out the albums proper - you can quite merrily get these from your local CD vending emporium, something I heartily endorse and yea, even encourage. Of course you'd prefer to hear them in wonderful vinylphonic crackly sound, so you'll still end up on ebay, frantically clicking. I'm undecided about the split live LPs. I'll get back to you on that one).
The Prisoners - There's a Time (Munster Records; 1999)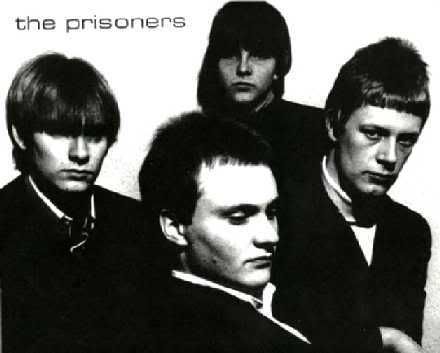 A1: There's a Time
A2: Revenge of the Cybermen
B1: I'm Looking For You
B2: 96 Tears
I guess the date there could/should say 1983 - after all, that's when the songs first emerged. However, this is a bit of an oddity - a late reissue of the early single (the A side) coupled with previously unreleased songs from the same sessions. The reissue is of Spanish origin, the original was French (on Skydog records). Confused? I know I am! Well, a bit. Actually, not at all. Did sound good, though. Like, whatever. Regardless, it's a four song set that anyone would be proud to call their own. And now you can, too.
The Prisoners - Shine on Me (Deceptive; 1997)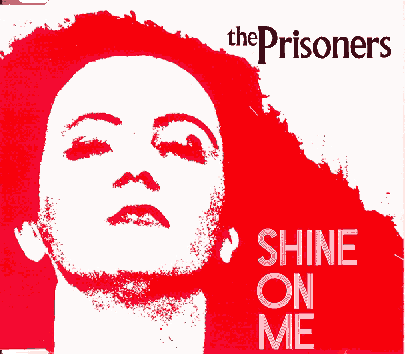 1: Shine on Me
2: Judgement Song
3: Small
Not a reissue, but something of an oddity all the same. A singular child born of a brief reunion. A shame more wasn't made of it, as the three songs ("Judgement Song" in particular - despite it's late appearance, it's firmly one of my favourite Prisoners songs) make you feel like they'd never been away. Still, if Graham had been one for forever looking backwards, then we wouldn't have had the magnificent Solarflares albums (still to come, I will get round to them though) and the Prime Movers, amongst other things (one of those other things being the frankly sexually good Graham Day and the Gaolers album, which I trust you have all eagerly snapped up with indecent haste. I might put the "Get Off My Track" single up at some point now that it's no longer in print, but I really must insist that you go buy the album).
The Prisoners - Rare & Unissued (Hangman; 1988)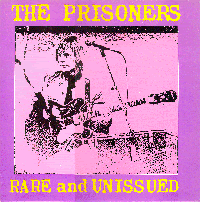 A1: Coming Home (live)
A2: Revenge of the Cybermen
A3: He's in Love (radio session)
A4: Trophies (demo)
A5: Far Away (radio session)
A6: Ain't No Tellin' (demo)
A7: Come to the Mushroom (live)
B1: Happyness for Once (demo)
B2: Be On Your Way (demo)
B3: Buccaneer (demo)
B4: Deceiving Eye (live)
B5: Mourn My Health (demo)
B7: Pop Star Party (demo)
B8: Mourn My Health (demo 2)
I often find that rare and unissued compilations serve only to reinforce a single point - that things remain rare and unissued for a bloody good reason. This, however, flies forcefully in the furry face of this opinion. The Prisoners simply accumulated a bunch of rare and unissued stuff because they were too busy striding from one musical masterpiece to another to sit down and collect the goodies that had happened to fall by the wayside along their path. You have live tracks demonstrating the full force of their on stage goodness, radio session tracks that sound as good as any studio effort (testament to the wonderfully live feeling captured on their very best records), unreleased demos that many another band would kill to have as an a-side, and demos to some of their better known efforts that leave you unable to decide which you actually prefer. Some of these are incorporated on the CD re-releases (with additional demos and the like), but I guess I just prefer them collected here together where they belong. Whether this is because I'm right and this is how it should be or because I'm an old curmudgeon who has been listening to it like this for twenty years, I've really no idea.
Answers on a postcard, please.